Description
WIF's Black Member Forum (BMF) is open to all Black members of WIF at any membership level. For information on non-BMF events, or to find out how you can support BMF programming as a white & non-black ally, subscribe to our newsletter.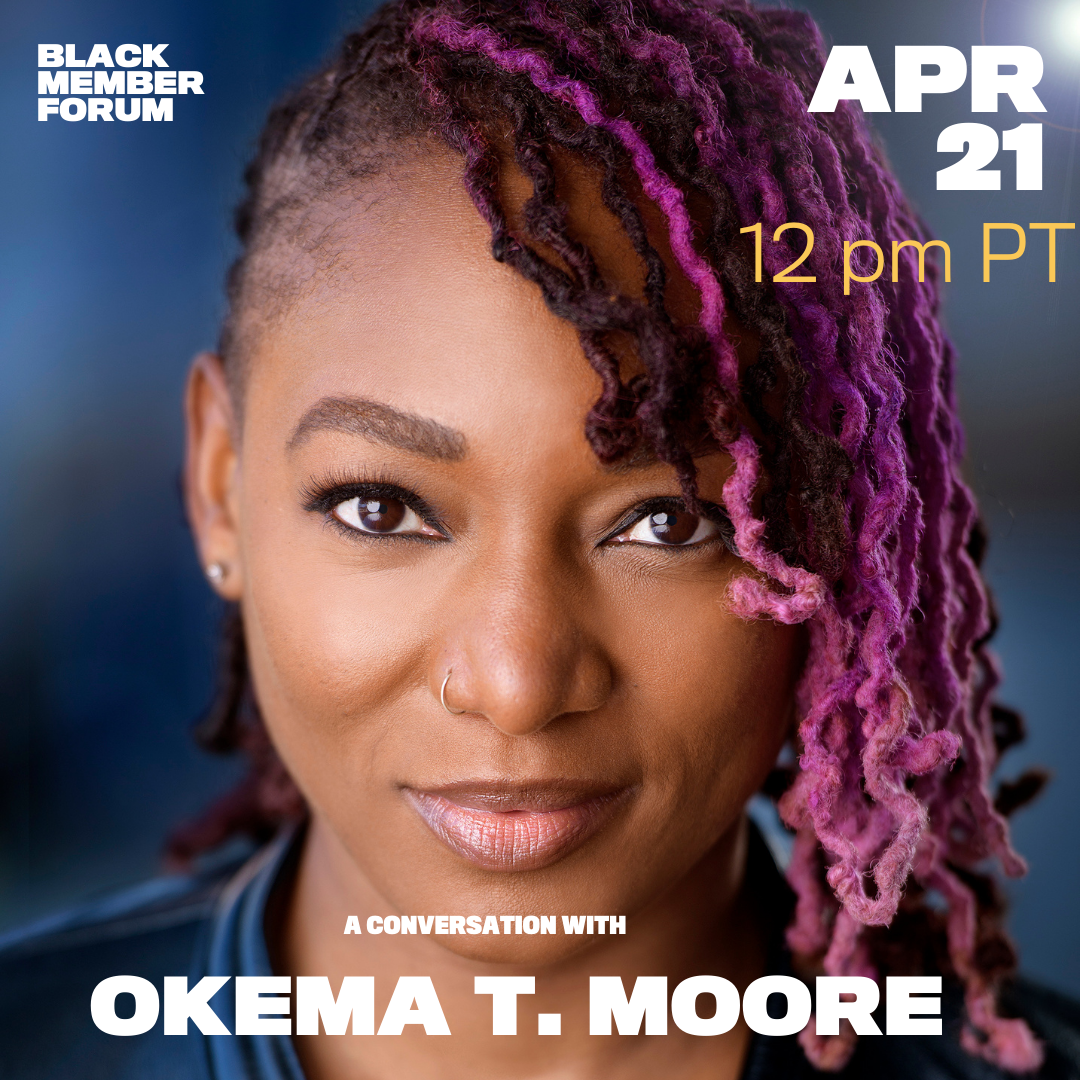 Black Member Forum, it's time for another mind-opening session with your peers! On Thursday, April 21 at 12:00pm PT, join the conversation at our next Industry Insiders gathering as we chat with Emmy-nominated producer, Okema T. Moore about TRANSITIONING TO CREATIVE.
She'll be talking about her career pivot into the business of entertainment as well as how she's forged her own unique path as a producer and director. This will be an interactive virtual session, so come prepared to share your questions and ideas! Whether you're a writer, actor, director, editor, development exec -- or just hoping to move into one of those fields, this discussion is FOR YOU. This event is for Black creatives in any filmmaking field, at any level in their careers. That means you: introverts, extroverts, and everybody in between.
Thursday, April 21 | 12:00 - 1:00pm PT
Special Guest: Okema T. Moore is an Emmy-nominated PGA producer and rising director. She has directed and produced branded content for Lifetime, Netflix, Nickelodeon, DreamWorks, FOX, and Disney/Marvel. Her most recent work includes docs THE COLOR OF CARE (OWN), UNLADYLIKE (PBS/American Masters) and KLUTCH ACADEMY (BET), as well as culinary hits THE KITCHEN and BEAT BOBBY FLAY (Food Network). She showran and directed her first series in 2021, HELLA LATE! with Hollie Harper (BRIC TV), and was a fellow for Minority in FILM's inaugural Branded Lab for directors, while running the Black TV & Film Collective's Black Producer Fellowship. Okema also serves on the boards of The Black TV & Film Collective and New York Women in Film & TV. She produced the narrative 2019 ABFF winner LITTLE APPLE, and THE FUTURE IS THEN, which was a Tribeca NOW 2019 selection.